Stopping the Press
New York Times Journalist Targeted by Saudi-linked Pegasus Spyware Operator
Key Findings
New York Times journalist Ben Hubbard was targeted with NSO Group's Pegasus spyware via a June 2018 SMS message promising details about "Ben Hubbard and the story of the Saudi Royal Family."
The SMS contained a hyperlink to a website used by a Pegasus operator that we call KINGDOM. We have linked KINGDOM to Saudi Arabia. In 2018, KINGDOM also targeted Saudi dissidents including Omar Abdulaziz, Ghanem al-Masarir1, and Yahya Assiri, as well as a staff member at Amnesty International.
Hubbard is among a growing group of journalists targeted with Pegasus spyware. As part of our continued investigation into threats against journalists, Citizen Lab also identified evidence suggesting a Pegasus operator may have been infecting targets while impersonating the Washington Post in the weeks leading up to and after Khashoggi's killing in 2018. There is no overlap between this activity and reported events surrounding the mobile phone of Jeff Bezos.
1. Background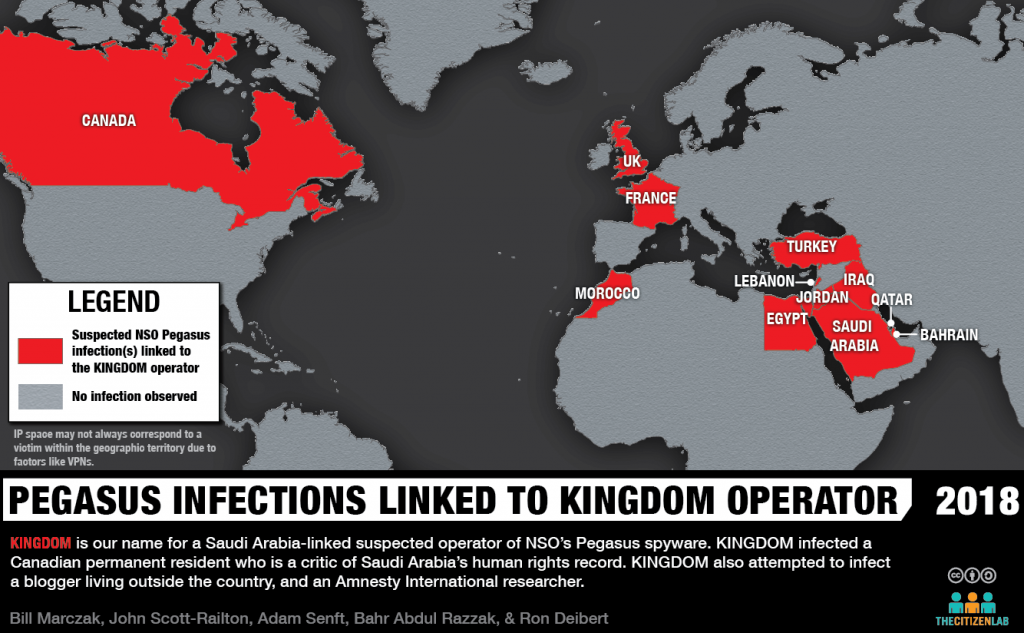 2. New York Times Reporter Targeted
2.1. Pegasus Infection Attempt
On June 21, 2018, Hubbard received an SMS on his phone stating in Arabic: "Ben Hubbard and the story of the Saudi Royal Family." Hubbard provided this message to the Citizen Lab in October 2018 for analysis. With Hubbard's consent, we are now able to report on this case.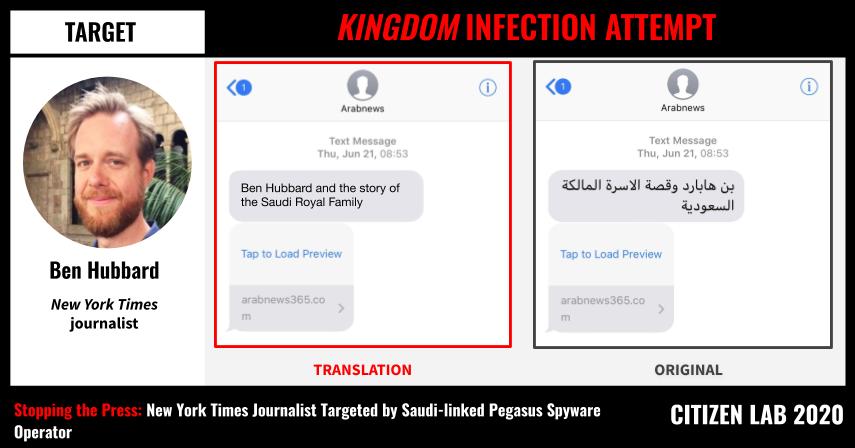 The link sent to Hubbard led to the site arabnews365[.]com, and was sent from a sender that called themselves "Arabnews." The full link is:
Hubbard recalls that he did not click on the link and we are not able to determine whether his phone was successfully infected.
2.2. Connection with Pegasus Infrastructure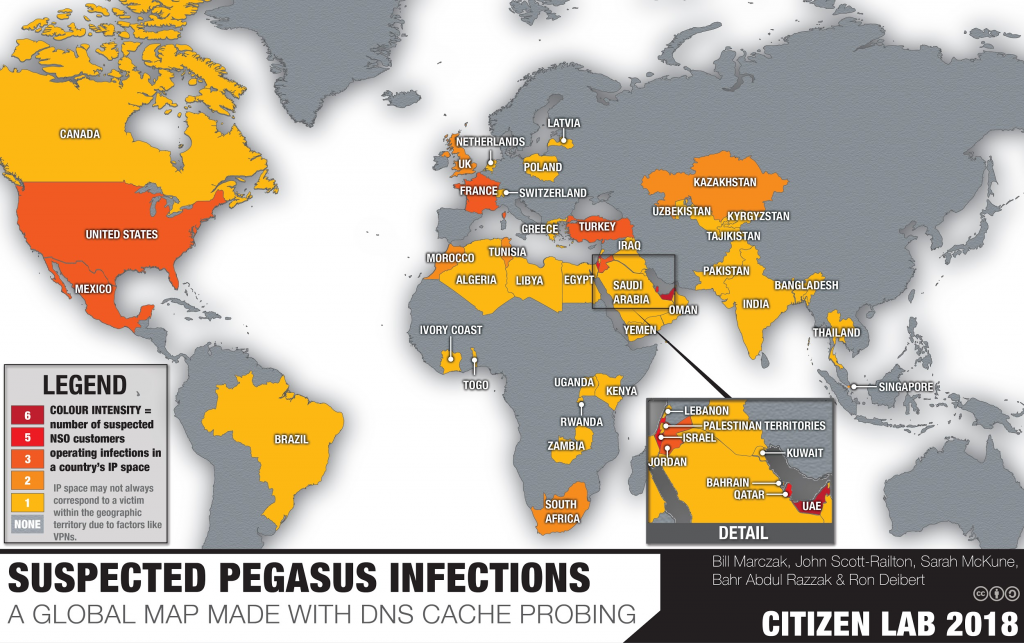 3. Commercial Spyware Harms Democracy, Press Freedom
3.1. A Growing List of Journalists Targeted with Pegasus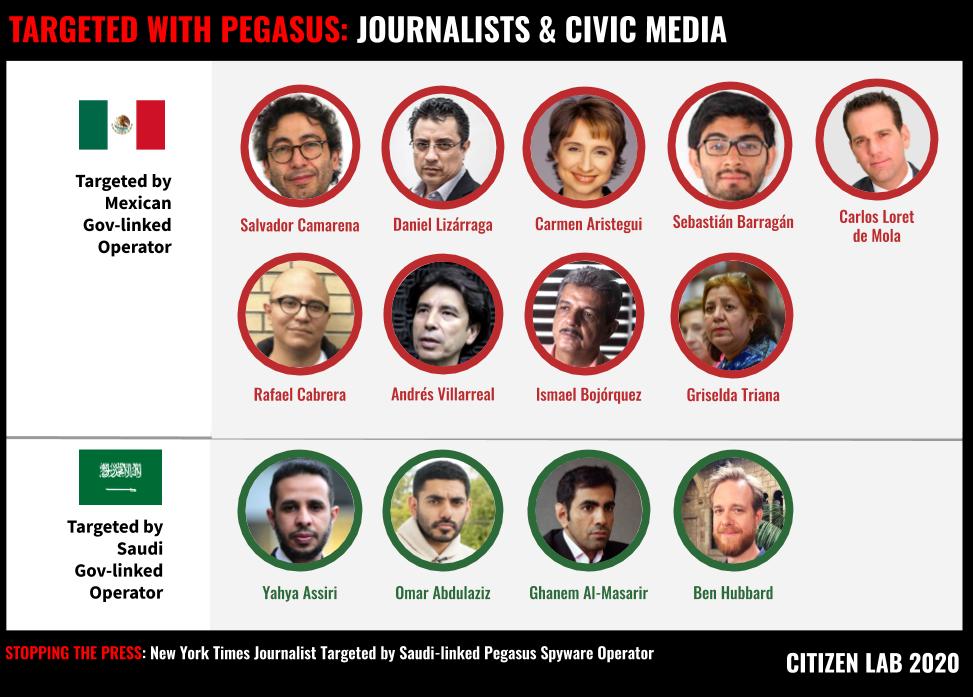 3.2. An NSO Operator May Have Masqueraded as the Washington Post
3.3. Commercial Spyware Used to Hack Journalists
NSO Group's Pegasus spyware is not the only commercial surveillance technology on the market, nor is commercial spyware the only means by which abusive surveillance of journalists can be carried out.
Echoing these findings, ongoing research by the Citizen Lab finds that investigative reporters tend to take digital security more seriously than their peers who work on non-investigative beats, and have higher familiarity with digital security tools and practices.
As an investigative reporter covering a sensitive topic, Ben Hubbard was wary of suspicious messages and chose to share the one he received with us for analysis. Yet, not all targeted journalists are working on a topic where the risk of surveillance may be so obvious.
Taken together, this body of research shows that more action is needed to prepare journalists for the digital threats they face. We believe that reports—such as this one—that continue to expose real cases of digital threats faced by journalists may help motivate those agitating for more methodical attention to digital security in journalism schools and news organizations.
4. Conclusion
Acknowledgements
We thank Ben Hubbard for sharing his suspicious message with us, along with the many other journalists who have participated in our previous investigations. Special thanks to Sharly Chan, Miles Kenyon, and Adam Senft for copy editing and additional assistance.
Research Ethics
Footnotes